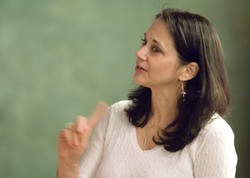 Deb speaking at a recent seminar (photo by Graham Cullen, The Frederick News Post).
WHO ARE BRAD AND DEBRA SCHEPP?

Writers, editors, speakers, consultants, online pioneers—we wear so many different hats that it's a good thing we have two heads!

As writers we focus on bringing the latest technology to the attention of everyone who could benefit from knowing how to use it. Our goal is to make sure these new technologies are easy to understand and integrate into our readers' lives. While we're busy researching the latest innovations, we're also meeting people who are using them successfully and gathering their stories. We are, before all else, storytellers.

Look at it this way. It's been a long time since most of us were fascinated by the magic of a microwave oven. But as mundane an appliance as it has become, do you know exactly how it works? Nah, neither do we. We honestly don't care about the technology behind it. We just want to know which buttons to push to make our coffee hot. Likewise, we can't begin to tell you how LinkedIn or YouTube have built their global networks, but now that they have, we can help you use them to make yourself more successful. We can also help you build a successful e-commerce business, if you'd like, whether on eBay, Amazon, or through your own website.

We have worked together for more than 30 years helping people become familiar with emerging technologies. From building a solar home, to convincing your boss to let you telework, to keeping your kids safe online, and earning your livelihood with your own e-commerce business, we've dedicated ourselves to making the online world safer, more accessible, more profitable, and yes, even more fun.

Our 20 books include The Complete Passive Solar Home Book, How to Make Money with YouTube, and How to Find a Job on LinkedIn, Twitter, Facebook, Google+ and other Social Networks. Our bestselling book is eBay PowerSeller Secrets, with more than 40,000 copies in print.

Whether you need an accomplished writer, a top-notch editor, a writing coach, or a consultant who can assist you with e-commerce or publishing, we can help. We bring creativity, energy, curiosity, and a passion for quality and results to every project. No project is too big or too small—we've worked with Fortune 500 companies such as McGraw-Hill, AOL/Time Warner, and individuals working on Internet start-up ideas. If you need a clear understanding of how to make the best use of the world's newest tools and want to be entertained while you learn, you've come to the right place.
Fall/Winter 2021
 

Deb and I are using this time to explore new writing opportunities in nonfiction as well as fiction. We're also doing some consulting work. If you have an idea for a book and could use a writing coach or publishing insider to show you the ropes give us a shout! 
NEWS


Spring/Summer 2019
The Used Truck Association is entering its busiest season of the year. The annual Scholarship Golf Tournament is coming up and not long after that UTA's 20th Annual Convention is being held in Palm Springs, CA. Deb and I are handling public relations, helping with social media outreach, and as usual writing their monthly newsletter Industry Watch.
Also, Deb's still working as a children's librarian for the C. Burr Artz library in Frederick, MD. She recently celebrated her 15th year there!
We're always interested in new book projects, consulting with new authors, and other freelance work, so give us a shout at bschepp@gmail.com if you think we can help out.

Summer 2018

We're actively developing new book projects both for ourselves and other authors. We're also editing the monthly web newsletter and handling PR and social media for The Used Truck Association (UTA).

Spring/Summer 2015

So proud of Deb! The book she co-authored with John Lawson--Kick Ass Social Commerce for E-preneurs: It's Not About Likes--It's About Sales--was named a 2015 Small Business Book Awards winner. It won in the social media category.


NEWS

Winter 2015

Deb's book Kick Ass Social Commerce for E-preneurs: It's Not About Likes--It's About Sales is getting great reviews on Amazon. Entrepreneurs tell us they find the book readable and full of great tips. That's just what we hoped we would hear. We are also continuing to write for the Used Truck Association and the Auctiva e-Commerce website. Brad's been doing more consulting as well, for firms such as GLG.

How can we work together?

Winter/Spring 2014

Deb's new book, Kick Ass Social Commerce for E-preneurs: It's Not About Likes--It's About Sales, has been published! The book's message is that: It's not About Likes, It's About Sales! Co-author John Lawson is doing a great job promoting the book via social media. This is a book everyone connected with is very proud of. We know it will help a lot of people. Packed with info, and fun (NOT boring) to read.

Spring/Summer 2013

The 2nd edition of How to Find a Job on LinkedIn, Facebook, Twitter, and Google+ is now available! Completely revised and expanded, the new edition has a chapter on Google+, and also a new chapter for students and recent grads. Deb and I poured our hearts and souls into this one because we feel helping someone find that next new job is one of the most most important things you can do. We've all been there. Job hunting isn't fun. But with this book you can take a lot of the guesswork and pain out the process. It's a quick read, with many stories of people who have successfully used social media to land new work, whether full-time, or as a freelancer/independent contractor/consultant.


More News!

We just completed a great interview with FORBES.com for an article called Make Social Media Your Job-Finding Weapon. They even used our quotes to create an entertaining slide show. The link for it is below the next bit of text.

The new book promotion is going great guns. New interviews with Investor's Business Daily and CBS News. Links below!


We're thrilled to say that the Wall Street Journal named How to Find a Job on LinkedIn among the Best Career Books for 2012.

For this edition we added a chapter on Google+, as well as a chapter just for students and other recent grads. We also added many more stories about people who found jobs through LinkedIn or other social networks. We checked every fact and incorporated all the great feedback we received from our readers.

Our hope is that it helps many, many people in these difficult times. Job hunting's still hard, but in some ways it's easier. Or at least the Internet makes it appear to be. Our book really shows you how to use social networks efficiently and productively to uncover new work opportunities. Plus, it's fun to read and what job hunter couldn't use a bit of fun?

In their March 18th (2013) edition, PARADE Magazine published our article on making money on eBay. It appeared in print in PARADE's 20 million newspaper supplements. Now we don't get the same thrill as we once did from seeing our names in print but this was different. Brad used to read PARADE magazine as a kid. He couldn't have imagined that one day an article he wrote would be included there!